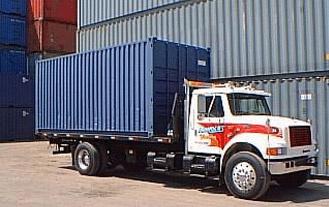 Through our large network of carriers, TPSI logistics group has the capability to transport empty and loaded ISO shipping containers. Also we transport ocean freight containers, refrigerated containers, open top containers, connex, milvans, flat racks ,IP1-IP2 containers, and cargo containers anywhere in the 48 contiguous states and throughout the world. Cargo containers and freight containers come in handy when you need to store different materials or equipment for safekeeping or transport.
TPSI is able to "live load" your shipping containers. After purchase, we can arrange transportation to the loading site, wait while the shipping container is loaded and then deliver it to the point of embarkation for shipping. If more time is needed TPSI can, at select locations, leave the shipping container on a flatbed or chassis while you load it and return to pick it up several days later and then deliver it to the rail or port for export.
If your product is too large to fit into a shipping container, we can move it as break bulk cargo containers.
We will work with you, if you are dismantling a warehouse and need to move your equipment. We are able to configure how many flatbeds, and freight containers will be necessary, provide the necessary amount of tarps to cover your equipment and obtain all permits needed to safely move your oversized pieces.
Whether palletized, in drums or crated, we can transload your goods, from flatbed to freight containers or cargo containers to freight containers in a safe and efficient atmosphere.
TPSI can provide safe, secure warehousing in most major cities in North America.
However small or large your logistical move is, whether across town or across the country, TPSI will move it in a prompt, professional manner. Feel free to contact us today for more information about our ISO shipping containers, IP1-IP2 containers, refrigerated containers, connex containers, milvan, flat racks, open top containers, strong tight containers, or ocean freight containers.
Our cargo and freight shipping containers are designed for keeping your goods dry or refrigerated, and secure. We take the guesswork out of buying containers! We are happy to offer several different types of storage containers such as flat racks, milvans, ocean freight containers, open top containers, ISO containers and IP1-IP2 containers in all different shapes and sizes. You will find that we have the highest quality cargo and freight shipping containers for sale at a price that fits your budget!